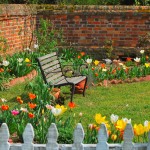 There is great beauty in a well designed and planned flower garden. Even before we really get into the winter months, those like me, who love gardening, have already begun to plan out what bulbs, seeds, or plants we plan to plant in the early spring months. It takes personal investment in time, effort, and money to make a flower garden. All it takes is to take a trip through town and you will see the results of all the effort placed into gardening. There are some yards and publicly maintained parks that are simply breathtaking and inspiring; they are literally a work of great beauty to behold. Then there are others that seem haphazard at best; no clear plan, no organization, and more akin to a jungle than a flower garden. Rarely do we give them a second glimpse or find them inspiring.
It is the same way with how we live our life as a follower of Christ. Each Christian should have the goal to hear those words spoken by the Lord: His lord said unto him, Well done, thou good and faithful servant: thou hast been faithful over a few things, I will make thee ruler over many things: enter thou into the joy of thy lord (Matthew 25:21). The apostle Paul believed he had lived a life worthy enough to hear those words and even told a young preacher by the name of Timothy, For I am now ready to be offered, and the time of my departure is at hand. I have fought a good fight, I have finished my course, I have kept the faith: Henceforth there is laid up for me a crown of righteousness, which the Lord, the righteous judge, shall give me at that day: and not to me only, but unto all them also that love his appearing (II Timothy 4:6-8). Since becoming a Christian, Paul had done all that he could do for the Lord, had followed Christ as completely and without question as he could, and knew he had lived a life that Christ would find pleasing.
Just as planting a flower garden requires a plan, a cost, a want, and work to have a truly beautiful and inspiring place of beauty, so does our walk with the Lord. If we want to live a life that brings glory to the Lord and that He will find pleasing, we have to have a plan, we have to have a desire, and we must be willing to work towards that goal. The cost has already been paid by the cross. We must be willing to separate ourselves from the things – from the lusts and sins – that hold us back. I believe that this is exactly what the apostle Paul had in mind when he wrote, This I say therefore, and testify in the Lord, that ye henceforth walk not as other Gentiles walk, in the vanity of their mind, Having the understanding darkened, being alienated from the life of God through the ignorance that is in them, because of the blindness of their heart: Who being past feeling have given themselves over unto lasciviousness, to work all uncleanness with greediness. But ye have not so learned Christ; If so be that ye have heard him, and have been taught by him, as the truth is in Jesus: That ye put off concerning the former conversation the old man, which is corrupt according to the deceitful lusts; And be renewed in the spirit of your mind; And that ye put on the new man, which after God is created in righteousness and true holiness. Wherefore putting away lying, speak every man truth with his neighbour: for we are members one of another. Be ye angry, and sin not: let not the sun go down upon your wrath: Neither give place to the devil. Let him that stole steal no more: but rather let him labour, working with his hands the thing which is good, that he may have to give to him that needeth. Let no corrupt communication proceed out of your mouth, but that which is good to the use of edifying, that it may minister grace unto the hearers. And grieve not the holy Spirit of God, whereby ye are sealed unto the day of redemption. Let all bitterness, and wrath, and anger, and clamour, and evil speaking, be put away from you, with all malice: And be ye kind one to another, tenderhearted, forgiving one another, even as God for Christ's sake hath forgiven you (Ephesians 4:17-32).
There's an old Southern gospel song that has been performed by many people that's called A Beautiful Life. The song, as it is written, makes me think of a person who is desiring that when they stand before the Lord, He will find their life to be pleasing.  The lyrics of the song are:
Each day I'll do a golden deed By helping those who are in need
My life on earth is but a span  And so I'll do the best I can
Life's evening sun is sinking low  A few more days and I must go
To meet the deeds that I have done  Where there will be no setting sun
The only life that will endure  Is one that's kind and good and pure
And so for God I'll take my stand  Each day I'll lend a helping hand
Life's evening sun is sinking low  A few more days and I must go
To meet the deeds that I have done Where there will be no setting sun
While going down life's weary road  I'll try to lift some traveler's load
I'll try to turn the night to day  Make flowers bloom along the way
Life's evening sun is sinking low  A few more days and I must go
To meet the deeds that I have done  Where there will be no setting sun
It takes a plan to live a life that the Lord will find pleasing. Not only must it involve focusing on meeting the needs and ministering to others, it must include being faithful in other things as well – in our prayer life, in our studying of the Bible, and in our service within the local church. Just as it takes preparing the soil, fertilizing, weeding, watering, pruning and planting to make the garden, there are different things that we must do so that we, too, can have a beautiful life in the eyes of the Lord. Just as a truly beautiful flower garden is designed to appear balanced, to have blooms from late spring to the end of autumn, we must approach our lives in such a way that we have a plan to follow throughout our life. Our Christian faith is not something we retire from when we reach 65, but it is something we are supposed to live through from the moment we accept Christ as our personal Savior until the day when He calls us home either through the rapture or through physical death.
I've not always lived a beautiful life for the Lord. I'm ashamed of the life I lived from 1988, when I first accepted the Lord as my Savior until 2006, when I decided to become serious about my faith. Instead of having a beautifully planned garden, my life during that time would resemble a vacant lot in the deteriorating area of town. It was overgrown with the weeds of sin, with the decay of rebellion, with an occasional blossom here and there. I wasn't reading my Bible daily, I wasn't praying daily, and I wasn't faithful in my church attendance nor in resisting sin and the desires of the flesh. Although I was saved, my life was not bearing the fruit that Christians should bear. I'm not saying this in a bragging matter because I am truly ashamed of my life then; however, as I found out in 2006, it didn't have to stay that way. Maybe you are a Christian but when you look back at your life, you see things that you don't think the Lord would find pleasing. It's never too late to give it to Him and allow His plan to take center stage in our lives. We have to reach the point when we are ready, we desire and crave to have spiritual success and not living a life that's flesh-oriented. Only then will we truly live a beautiful life for the Lord.