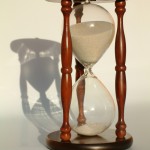 For the last few entries, I've shared some on my Bible study on anger, as I shared it with my Sunday school class. Although there are still a few lessons I plan to share on the topic, I felt the need to change topics with today's entry. As many of you know, I teach at a local community college and sometimes the Lord will bring things into a perspective that I never really thought about before. Yesterday I experienced one of those trips to the potter's field where the Lord uses something common to teach me something profound. Before class, I had a student tell me that she had let time slip away from her and she was concerned if she was going to be able to get anything done.
At one point in the conversation, she actually said, "I can see the last day rapidly approaching and there is still so much I must get done…" Immediately, my mind thought of the verse, Say not ye, There are yet four months, and then cometh harvest? behold, I say unto you, Lift up your eyes, and look on the fields; for they are white already to harvest (John 4:35). As she continued to share her feelings and frustrations, my mind immediately began comparing what she was saying to what the scripture teaches. When she registered for the course, she understood it was a bi-term class; instead of it being a normal 16 week college course, I cover the same materials in eight weeks. The course is compressed, requires a lot of personal investment, and students must remain engaged in the course to get all the required assignments done. Now the eight weeks is almost over and she is very concerned about what she still has to do to make a decent grade in the class.
As I was leaving the campus, I began to think about how the conversation with my student had a spiritual lesson that is easy to forget.  Jesus told his disciples, Now learn a parable of the fig tree; When her branch is yet tender, and putteth forth leaves, ye know that summer is near: So ye in like manner, when ye shall see these things come to pass, know that it is nigh, even at the doors. Verily I say unto you, that this generation shall not pass, till all these things be done. Heaven and earth shall pass away: but my words shall not pass away. But of that day and that hour knoweth no man, no, not the angels which are in heaven, neither the Son, but the Father. Take ye heed, watch and pray: for ye know not when the time is. For the Son of man is as a man taking a far journey, who left his house, and gave authority to his servants, and to every man his work, and commanded the porter to watch. Watch ye therefore: for ye know not when the master of the house cometh, at even, or at midnight, or at the cockcrowing, or in the morning: Lest coming suddenly he find you sleeping. And what I say unto you I say unto all, Watch (Mark 13:28-37). Jesus was telling the disciples, and through faith in the scriptures, telling us that the day of His returning is rapidly approaching!
There are times when I honestly believe we do not take this warning of the Lord Jesus seriously. Just as my student was aware of the approaching end of the course, all the Christian has to do is to look around the world today and through the lens of scripture, it becomes apparent that the day Christ warned us about is rapidly approaching. The gospel of Matthew records the same teaching of Jesus but from a different perspective: But of that day and hour knoweth no man, no, not the angels of heaven, but my Father only. But as the days of Noe were, so shall also the coming of the Son of man be. For as in the days that were before the flood they were eating and drinking, marrying and giving in marriage, until the day that Noe entered into the ark, And knew not until the flood came, and took them all away; so shall also the coming of the Son of man be. Then shall two be in the field; the one shall be taken, and the other left. Two women shall be grinding at the mill; the one shall be taken, and the other left. Watch therefore: for ye know not what hour your Lord doth come. But know this, that if the goodman of the house had known in what watch the thief would come, he would have watched, and would not have suffered his house to be broken up. Therefore be ye also ready: for in such an hour as ye think not the Son of man cometh. Who then is a faithful and wise servant, whom his lord hath made ruler over his household, to give them meat in due season? Blessed is that servant, whom his lord when he cometh shall find so doing (Matthew 24:36-46). What is fascinating to realize is that everyone will be doing something when the Lord does return. The question becomes "what will the Lord find me doing when He does return?"
I know that someone out there may be asking why I think that many Christians forget that the day is rapidly approaching. To be honest, imagine how much different all of us would be, how much more serious and active we would become towards our faith if we believed that the Lord was coming again on Saturday! How many times would you be praying for the salvation of family and friends? How many people would you willingly share the gospel with? How serious would you be about ridding your life of the temptations you willingly keep around?