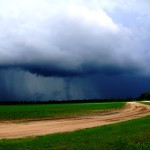 I have always loved watching approaching storms. There's something about the change in the smell of the air, the cloud formations, and even the slight breeze that I just love. I love the flash of lightning and the clap of thunder and simply sit in awe of the might of the storm. With all of humankind's technology, we still have yet to master the storm much less understand all the mechanics surrounding one. I'm reminded of the story found in the gospel of Luke where Jesus disciples are panicking as the storm unleashes its fury on them: And they came to him, and awoke him, saying, Master, master, we perish. Then he arose, and rebuked the wind and the raging of the water: and they ceased, and there was a calm (Luke 8:24).
There are so many lessons we can learn in this one verse about the Lord and the disciples lack of understanding in who Jesus actually was. They saw Jesus heal the sick, raise the dead, and cast out devils, yet when it came to this storm, they pleaded for Jesus to save them. The previous verse, But as they sailed he fell asleep: and there came down a storm of wind on the lake; and they were filled with water, and were in jeopardy (Luke 8:23), tells us that Jesus was asleep in the boat, the same boat where the disciples were panicking. Just as the disciples knew who Jesus was, we have the benefit of knowing who Jesus is through the scriptures. Just as the disciples did, we also cry out in the  middle of our storms not fully realizing that Jesus is right there with us and realizing He will not allow us to succumb to the tempest we face. We can have peace in the middle of our storms if we take the time to prepare for the storms before they even begin to form.
A Christian emergency kit
As I began to think about what items we would need to bring together for our spiritual emergency kit, the first thing that crossed my mind was the Bible. It is God's instruction book for life. Within its pages it has God's guidance, not only for daily living, but God's advice on how to handle any situation. As I have begun to mature and grow in my faith I become more dependent upon the wisdom contained in the Bible. God offers financial advice, advice on how to raise children, on what to look for in a mate, and everything else in between. The Bible is an everyday book; this makes it perfect for any spiritual emergency kit we put together. 
A strong prayer life is another thing we need to include in our kit. Prayer should not just be something we do our of vain repetition or right before we eat. We know that the prophet Daniel prayed multiple times a day: Now when Daniel knew that the writing was signed, he went into his house; and his windows being open in his chamber toward Jerusalem, he kneeled upon his knees three times a day, and prayed, and gave thanks before his God, as he did aforetime (Daniel 6:10). I will be willing to speculate that these three times of prayer were in addition to his mealtime prayers. Not only is prayer an important part of our daily life, it must be a part of how we handle the storms when they come. In my life there have been times I have watched the spiritual storm approach and instead of trusting in and praying to the Lord, I have tried to handle it on my own using my own understanding of the situation.
What I have learned is that when I do this, I am actually acting out my doubts in God's ability to manage the situation. The prophet Isaiah was led by the Spirit of the Lord to write, But they that wait upon the LORD shall renew their strength; they shall mount up with wings as eagles; they shall run, and not be weary; and they shall walk, and not faint (Isaiah 40:31). When this verse is coupled with the teachings found in Proverbs, Trust in the LORD with all thine heart; and lean not unto thine own understanding (Proverbs 3:5), it becomes clear to me that two important tools Christians need to have in their emergency kit are patience and trust. Especially when you are a person who likes to have their hands on a project or like to be an active participant, it is hard to simply hold back and wait for the Lord to guide you. When I think back at my life, some of the worst spiritual storms I was in was because when the storm first started I didn't wait on the Lord. I thought I could handle things on my own. It wasn't until the waves were too high, the currents too strong that I cried out to the Lord. The Lord tells us simply to wait and trust. He promises to renew our strength and to see us safely through the storm. He tells us not to simply act on our own understanding because He knows we never have the full view of the storm as He does. 
When we are facing spiritual storms many of us have the tendency to isolate ourselves and not approaching others and asking for prayer and fellowship. It is difficult to remember the admonishment by the apostle Peter, Be sober, be vigilant; because your adversary the devil, as a roaring lion, walketh about, seeking whom he may devour: Whom resist stedfast in the faith, knowing that the same afflictions are accomplished in your brethren that are in the world (1 Peter 5:8-9). Within this passage, we learn a couple of things about the spiritual storms we face. We learn that the Devil uses them to separate us from God's love and joy. We also learn that other Christians, our brothers and sisters in the faith, also experience the same spiritual storms we go through. Even the apostle Paul wrote, Take heed, brethren, lest there be in any of you an evil heart of unbelief, in departing from the living God. But exhort one another daily, while it is called To day; lest any of you be hardened through the deceitfulness of sin (Hebrews 3:12-13). When we are in the middle of our spiritual storm, we need to reach out to our brothers and sisters in the faith. When we see our brothers and sisters in the faith going through their own spiritual storm we need to embrace them, lift them up, and encourage them to continue in the Lord.