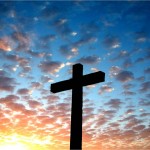 The sincerity of the cross is something I have been thinking a lot about since the beginning of March as Palm Sunday approached.  Within the various strands of Christendom this week is known as "holy week." Beginning on Palm Sunday, Christians around the world pause their busy schedules and focus on the love that Jesus had for all people - But God commendeth his love toward us, in that, while we were yet sinners, Christ died for us (Romans 5:8). This morning, as I was watching some local news, there was a segment on how some Christians spent Palm Sunday and there were two things that immediately stood out – the number of people who are only sincere about their faith around this time of the year and how the world marvels in their misguided understanding of the cross.
The cross demonstrates the sincerity of God's love
There's an expression that we often hear both in politics or when we are involved in any team activity that goes "we all must have some skin in the game…" We all understand what that expression means and how right it is to many things in life. A marriage will not work unless both the husband and wife are committed, have the same goals and vision, and are willing to work together. There also must be demonstrations of the sincerity of love and compassion within the marriage that not only shows the level of commitment but the seriousness that both man and woman have within the marriage relationship. The cross is that demonstration of God's sincerity; it is the greatest demonstration of God's love for man. There are a few verses in the Bible that help convey this level of love that God has for mankind: Greater love hath no man than this, that a man lay down his life for his friends (John 15:13), Hereby perceive we the love of God, because he laid down his life for us: and we ought to lay down our lives for the brethren (1 John 3:16) and of course, And walk in love, as Christ also hath loved us, and hath given himself for us an offering and a sacrifice to God for a sweetsmelling savour (Ephesians 5:2).
No matter how the world tries to distort the message or cloud the meaning of the cross, the sincerity of the cross always wins out. The cross is the demonstration of a sacrificial love that I can scarcely comprehend. I think of what Paul wrote to the Christians in Rome: For when we were yet without strength, in due time Christ died for the ungodly. For scarcely for a righteous man will one die: yet peradventure for a good man some would even dare to die. But God commendeth his love toward us, in that, while we were yet sinners, Christ died for us. Much more then, being now justified by his blood, we shall be saved from wrath through him. For if, when we were enemies, we were reconciled to God by the death of his Son, much more, being reconciled, we shall be saved by his life (Romans 5:6-10). Paul is exactly right; how many of us would be willing to sacrifice ourselves or our children for a neighbor, even if we thought that our neighbor was a righteous person? We are often willing to sacrifice an afternoon to help a neighbor we thought was deserving of our help; we do not waste our time on those we do not think are worth the effort. We've all heard the expression, "I wouldn't give them the time of day…" yet not only did God do just that, he sent his Son to take our place and to atone for our sins. The sincerity of God's love, when we truly understand what the cross means, becomes incontestable. God was demonstrating His love for us through the sincerity of the cross.

The cross demands our sincerity
This time of the year, right before Easter, there are people who will be attending church for the first time since Christmas. As my pastor often jokes, many of these claim to be faithful Christians who attend every Christmas, Easter, and Mother's Day, yet they sadly miss what has been paid for by the cross. While I do believe that salvation is by grace through faith in the shed blood of Christ, I understand that many who claim to be Christians simply do not understand their new relationship that their acceptance of Jesus as their savior brings. In some cases, I do not believe they have accepted in their heart what the head claims to know, and this can be equally dangerous. In the latter case, there is no salvation through Christ if it has not become heart knowledge; in the former case, there is no true joy and spiritual growth in the life of the believer. Just as a strong marriage depends upon a sincere commitment between a man and a woman to make it work, our relationship with God takes a sincere commitment between God and ourselves to enjoy the richness of our relationship and faith. A person can be a Christian, fully trusting in the Lord Jesus Christ as their only hope for Heaven and yet can miss out on the blessings and true joy of the relationship with the Lord because they are not committed and sincere.

God has already demonstrated His commitment and sincerity to us through the cross; we now have a responsibility to sincerely commit ourselves to the relationship we have with Him. Even Jesus taught this very thing as he said, If ye keep my commandments, ye shall abide in my love; even as I have kept my Father's commandments, and abide in his love (John 15:10) and He that hath my commandments, and keepeth them, he it is that loveth me: and he that loveth me shall be loved of my Father, and I will love him, and will manifest myself to him (John 14:21). If we want to show our commitment and sincerity to the Lord in honor of His sacrifice, then we should be willing to live a life that demonstrates our love for Him. We should desire to keep His commandments, not out of some sort of legalistic attitude as had the scribes and Pharisees and even some Christian groups today, but simply because we want to please the Lord with our lifestyle. I beseech you therefore, brethren, by the mercies of God, that ye present your bodies a living sacrifice, holy, acceptable unto God, which is your reasonable service (Romans 12:1) is how Paul described how we should see doing this very thing of living a lifestyle that is pleasing to the Lord. He calls it "our reasonable service" because it is. No matter what we do, our sincerity and commitment will never rival Jesus' death on the cross but it should be the very best we have to offer to Him.